For sale old wooden duck decoys, hand made hunting decoy: Ben Schmidt, Otto Misch, Chris Smith, Factory: Wildfowler, Evans, Dodge and Michigan makers. Let me know what you are looking for??
Call Patrick Kane for information, 989-631-3168
Greenwinged Teal by Jasper Dodge, 1890's.
Excellent restoration by Patrick Kane, branded PK, $295

Ringneck Duck by Otto Misch, 1940's, old paint touched up by Otto, original lead weight, signed, $425

Redhead by Chris C. Smith, Algonac, Mi. Hollow carved with glass eyes. Restoration by Patrick Kane, branded PK.
$295

Canvasback by Chris Smith, Algonac, Mi. Restoration by Patrick Kane, branded PK,Hollow carved, outstanding aged surface. $275

Redhead by Frank Schmidt, Detroit, Mi. 1940's, original condition with keel and line tie, $325
Canvasback by Ben and Frank Schmidt, Ca. 1940's. Nicely carved head by Ben and an unusual hollow carved body by Frank. Branded TLBAKER. Restored condition, $225

Black Duck from Detroit, Michigan, 1950's, carved by a student of Ben Schmidt, excellent feather stamping, no keel, original condition. $225
Ringneck Duck, nicely repainted Wildfowler Decoy, Oldsaybrook brand. He has a balsawood body and a pine head with glass eyes. A great looking bird in aged paint and the original keel.
Only $95

Black Duck by Bill Dahlka Detroit Michigan 1940's, original paint, double branded by Hy Dahlka, a known Michigan collector. 19 inches long! $195

---
R.W. Schaap Widgeon, Lincoln City, Oregon, not very old, aged looking decoy in original condition, 15 inches long, signed by the maker! $120

Below are items SOLD to another happy collector!
Mallard by Dodge Decoy Co. Ca. 1890's. Original paint with some hunter touch up.
Neck repair and touch up on the tail. $OLD, sold

Redhead by Wildfowler Decoy Co. Original paint with minor touch up over a few shot marks, SOLD!!! Excellent buy.

Wood duck by Ken Harris

Bluebill by Wildfowler Decoy Co. Original paint with average wear, shot marks and some bare spots. SOLD!!!!

Redhead by unknown Michigan maker, Ca 1940's, hand carved with minor bill repair. SOLD

R.W. Schaap Sleeper Goldeneye, original condition, signed, SOLD!

Mallard by Gundlefinger, Jefferson City, MO. 1940's Original with minor touch up on the bottom, inletted weights, SOLD

Davey Nichols Redhead Pair, original condition, SOld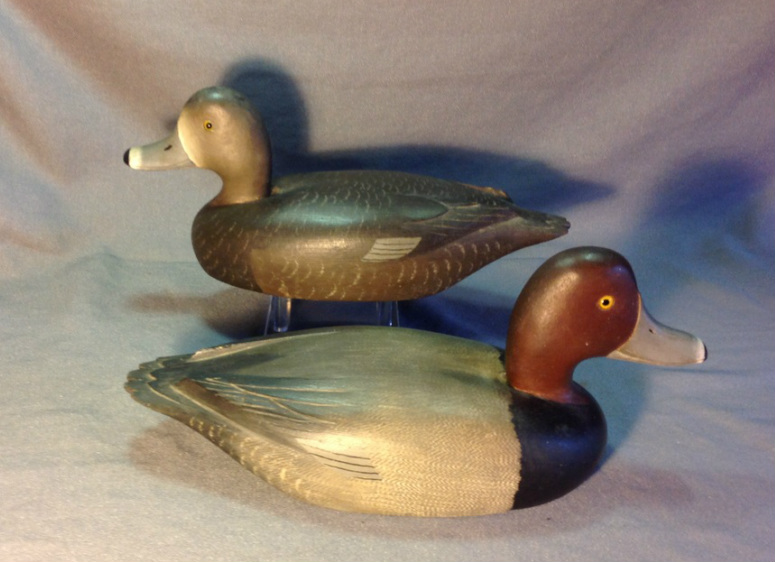 ---
---
Bluebill sleeper by Henry "Hank" Walters Detroit Michigan,sold,sold!!
---
---
---
---
Hen Canvasback by Walt Snow, near mint condition!
---
Walter Evans decoys, Bluebill Mammoth and Hen Bluebill Standard, sold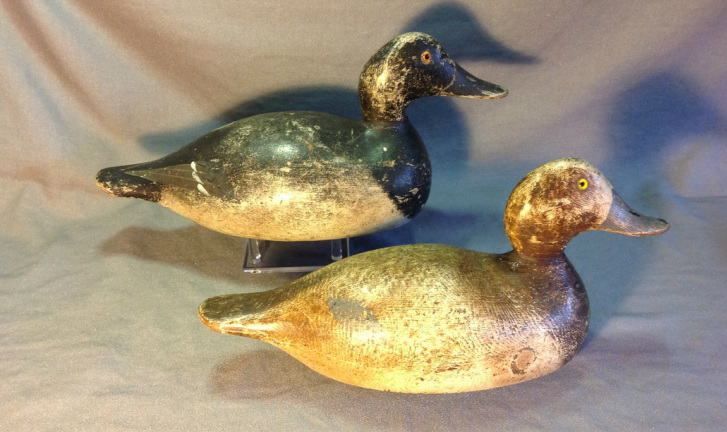 ---
---
---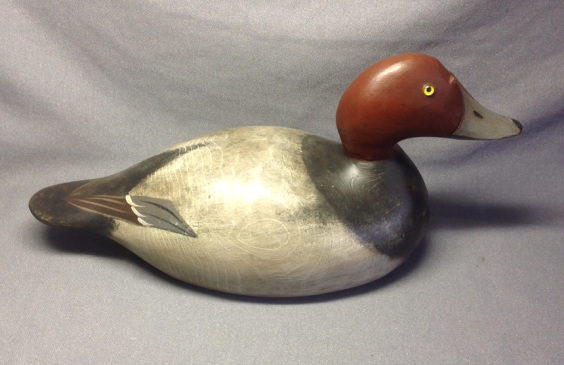 ---
Canvasback from Michigan, Laurie Rig. Mostly original with a bill repair. Painted by Mason, very unusual. Branded: LAURIE. Original keel intact. Sold
---
Hen Widgeon by Ben Schmidt
Hen Widgeon by Ben Schmidt, Centerline, Mich. Ca. 1940's. Original paint, hollow with a bottom board, tack eyes, great feather stamping. $old
---
Coot by Ben Schmidt
Coot by Ben Schmidt, 1950's, original paint, keel and line tie intact. $OLD
---
---
Redhead pair by Wildfowler Decoy Company
---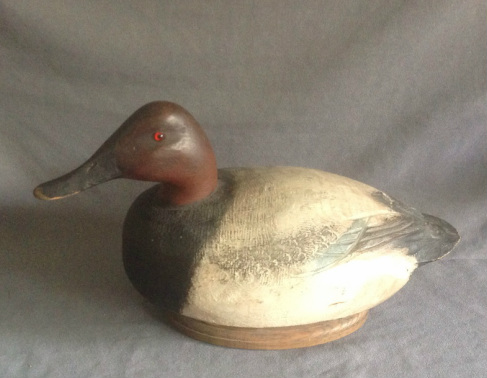 ---
---
---
---
---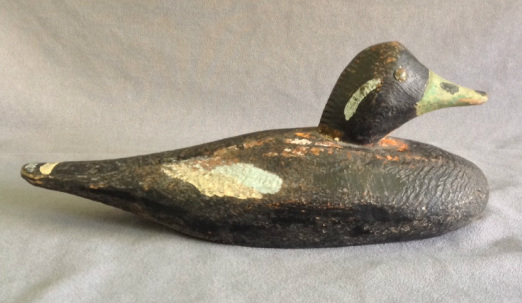 ---
---
---
---
---
---
---
---
New Jersey Black Duck, hollow carved, 1940-1960's, bill carving, inletted weight, 16 inches, glass eyes, Sold
---
---
---
---
---
---
---
---
---
---
---